Making a relationship last for ten years is no easy feat. No doubt you'll have both put in an incredible amount of effort, time, and love to ensure that you've made it this far. And such a feat deserves celebrating! For a decade now you've proven that you and your partner have what it takes to make a relationship that works. Now you can sit back, relax, and reflect upon the good times on this, your 10th wedding anniversary. You can think back to that first date so long ago and your perfect wedding day. You're sure to have amazing memories that you have both shared over the years.
But despite sharing the last decade together, you might still be a little lost when it comes to gift-giving. For such a momentous occasion it can be quite a daunting task to choose the perfect gift. But we're here to help!
From traditional tin and aluminium gifts to some more modern alternatives, this brief yet detailed article should give you plenty of ideas. After reading this you should be one step closer to choosing the perfect gift for a 10th wedding anniversary.
Why Tin For The 10th Anniversary?
Virtually all wedding anniversary years have their own symbols. One of the traditional materials for a 10th wedding anniversary is tin. Tin symbolises the strength of your relationship and both partners' needs to be flexible. That's why a tin gift will act as a reminder of all the hardships you've been through. It will also help you remember how they've made your relationship even stronger as a result.
Tin Gifts For A 10th Wedding Anniversary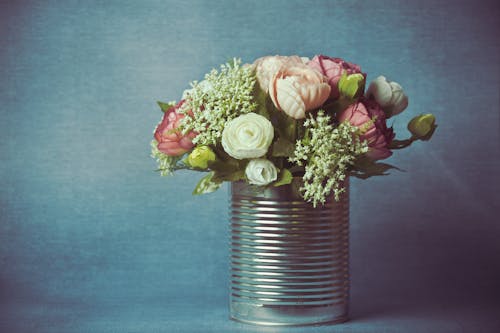 You can't go wrong with sticking with a traditional 10th anniversary gift. Thankfully, there are plenty of beautiful tin-based gifts that are sure to make your partner smile.
Tin Flowers
For instance, why not go for a traditional tin rose. Everyone loves getting flowers, especially from someone they adore, so why not get your partner a flower that will never wilt or die. Real flowers from a florist are lovely, but tin roses will last forever. These ornamental roses are designed specifically for those who are celebrating a 10th wedding anniversary. This is why they're made from 100% tin. If you want your 10th wedding anniversary to be as traditional as it can be then these tin roses may just be the gift you're looking for.
Personalised Tin Gifts
If you're looking for something that packs a lot of meaning into a small package, then you should seek out some personalised tin gifts. Gift service providers have reported increased demand for personalised presents and it's easy to see why. Bringing a personal touch, customisation adds more meaning to any gift.
No matter what your partner's into, there is sure to be a personalised gift that they would love to receive. For those who love ornamental gifts there is a framed tin heart that can be personalised with your names and wedding anniversary date. If you want a gift that will always remind your partner just how much they mean to you then you could get them a personalised tin key ring. Or, if you want something really unique, then get your partner a personalised "10 reasons I love you" tin, which will let you break down your love to its bare essentials.
Practical Gifts
A 10th wedding anniversary present doesn't need to be an over-the-top gesture. In fact, your partner might prefer a more practical gift. For example, you could get them a tin candle holder. This gift can still be personalised to make it more meaningful, but it's also a great gift for someone who prefers practical items that they can actually use in everyday life. Along this line of thinking, if your partner is an avid coffee-drinker then maybe they would appreciate a personalised coffee tin.
Aluminium Gifts For A 10th Anniversary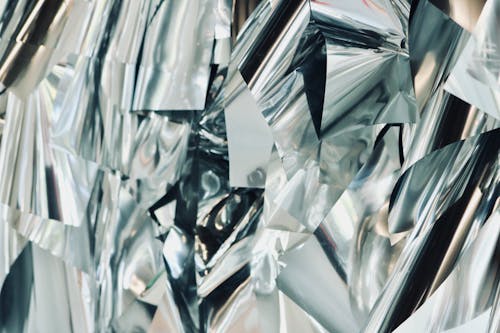 While tin remains to be the most traditional 10th wedding anniversary gift, aluminium seems to be the more contemporary choice. This is mostly because of its cleaner and sleeker look. There also tends to be a wider variety of aluminium-based gifts. So, if you don't think your partner will mind too much about tradition, then take a browse through some of our recommended aluminium 10th wedding anniversary presents.
An Aluminium Photo Print
A simple yet elegant 10th anniversary gift that is guaranteed to make your partner happy is an aluminium wedding photo print. What's a better way to celebrate ten years together than by remembering the day that started it all? With this gift, you'll always be reminded of that special day. Nothing sums up ten years together quite like a reminder of where it all began, and this framed aluminium printing is sure to have a place on your mantle for years to come.
Gardening Gifts
Does your partner love gardening? Why not get them something that symbolises your love but also takes their passion into account? A set of aluminium planters are the perfect 10th wedding anniversary gift for the green-thumb in your life. As your partner goes to water the plants every day, they will be reminded of the happy decade they have spent at your side.
Something Truly Personal
Your 10th wedding anniversary isn't your average milestone. It means ten whole years of learning and living with someone that you care deeply about. After all this time together, it might be a nice gesture to get them something truly personal. For example, you could get them an aluminium wallet insert card that has an engraved message on it. This card can be easily slipped into a wallet of any size and can be looked at wherever and whenever your partner wants to be reminded of the last ten years. A personalised message can show your affection in a way that no other gift can. If you want to easily show your partner just how much you care about them then it might be a good idea to just speak from the heart and let them know.
For a gift that is both practical and meaningful, get your partner a personalised aluminium tin container. This container might look exceptionally plain and straightforward on the surface, but this small box can have a meaningful impact on your partner very easily. If you use this box to store some sentimental items collected during your ten-year-plus relationship, this plain container easily becomes a meaningful and nostalgic trip down memory lane. From wedding RSVPs to the plane tickets, you held onto from your Honeymoon, you're sure to have some meaningful items scattered around your house somewhere. Sometimes the best gifts are the ones that appear simple at first, but clearly have some deep meaning behind them. Your partner is sure to appreciate a gift that you've put some real thought into.
Something Completely Different
If you're a lover of tradition but want a gift that has more of a modern flair, how about something completely different? You might want to look at some aluminium soundwave art. These metal canvases perfectly blend a traditional 10th wedding anniversary gift with some modern artistic designs. All you need to do is do a quick voice recording on your phone or any other device and send it off to the manufacturers. The soundwaves of your voice recording are then engraved onto an aluminium canvas, with a quote of your recording appearing below the soundwave. This contemporary artistic design is the perfect present for someone who prefers more unique and modern ornamental pieces.
Choosing A Modern 10th Anniversary Gift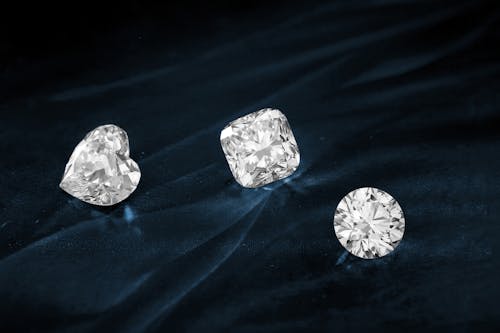 Quite frankly, tin and aluminium are not everyone's favourite metals to receive. It is often difficult to get tin-based gifts that blend in properly with a home's interior design. Some tin or aluminium ornaments can look really out of place in a living room or bedroom. Similarly, not everyone wants an ornamental gift, some partners may prefer something they can wear. This is why diamonds have become the most popular modern 10th wedding anniversary gift.
Diamonds hold much of the same thematic resonance as tin and aluminium, it too symbolising a long-lasting, resilient relationship that cannot be broken easily. If you think your partner would prefer something they can wear and show off, then you may want to get them a diamond-based 10th wedding anniversary present.
Jewellery Gifts
When it comes to diamond-based gifts, jewellery is king. Simply put, the market is absolutely flooded with diamond rings, necklaces, bracelets and more. It all comes down to choosing the best one for your partner. Your 10th anniversary isn't something to take lightly, so you want to make sure that you choose the best possible gift for your significant other. You'll want to get them something that both looks spectacular and means a great deal to them personally on an emotional level.
For example, if you know that your partner prefers traditional gifts then you should focus your search to classic silver diamond products. There are countless earrings, necklaces and rings out there that have silver diamonds in. You'll want to narrow your search even further by finding out what type of jewellery your partner prefers. It may take a bit of time and effort, but all that hard work is going to pay off tenfold when you see your partner's face glow up upon opening your present. The more time and effort you put in to choosing the right anniversary gift for your partner, the happier they are going to be when they realise just how much thought you've put in.
Making Your 10th Wedding Anniversary A Special One
From tin to aluminium to diamond, no matter what material your gift is you are sure to make the love of your life extremely happy. With just a little bit of thought and time you can make your 10th wedding anniversary feel like the momentous occasion it should be. We hope that our recommendations have helped to make your 10th anniversary a perfect one. Here's to ten more years! Before you know it, you'll be celebrating your 20th wedding anniversary!