Sixty years is a long time. If you've been married for a total of six decades, then you don't need me to tell you how long that time has been! But, hopefully, if you've found the right person, then the last sixty years have flown by. Your 60th wedding anniversary is the perfect time to reflect on all that's happened during your six-decade-long relationship. Maybe you've had kids, maybe you've even had grandkids. Or maybe you've just spent the last sixty years content living with just you and your partner. No matter how you've spent the last six decades, you should celebrate your 60th wedding anniversary in style.
If you're looking for some unique gift ideas, then you've come to the right place. Perhaps you're searching for a traditional gift to give to your parents or grandparents. Or maybe you're the one celebrating the anniversary and are looking to give your partner the perfect present that summarises sixty-plus years. Either way, we should be able to give you plenty of ideas.
Traditional Diamond Gifts For A 60th Wedding Anniversary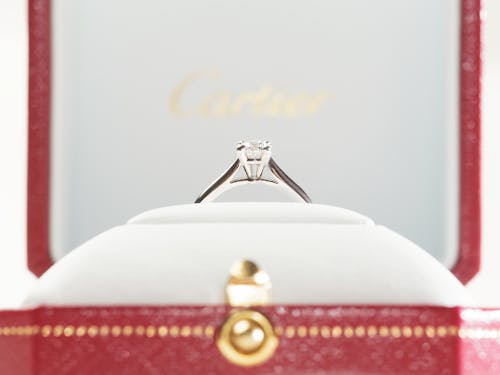 Like most wedding anniversary years, the 60th milestone has its own symbol. You may not immediately think of it as a symbol of love, but the diamond is the classic gemstone representation of a 60th wedding anniversary. The word is derived from the Greek word "adamas", meaning enduring and indestructible. This means the diamond is actually the perfect symbol for a marriage that has lasted sixty years. If your marriage has endured six whole decades, then it is undoubtedly a strong one. No petty squabbles or arguments can hurt your relationship. Fortunately, there are plenty of excellent diamond-related gifts that are sure to make your partner (or a loved one) very happy.
Many couples prefer to keep their anniversary as traditional as possible. This often extends to the gifts we give them. Thankfully, there is no shortage of traditional diamond anniversary gift ideas.
Are you looking to really splash out and get something big for someone's 60th wedding anniversary? Then jewellery might be the best option for you. While it may not be for everyone, it cannot be denied that diamond jewellery tends to look beautiful. Whether it's a necklace, bracelet, or ring, diamonds shine brighter than any other gemstones. Buying your partner or family member some diamond jewellery for their 60th wedding anniversary is almost-always the best course of action. If you're not too well-versed in the jewellery world then it is always an idea to just simply choose what looks the best. For instance, if there's a ring that looks particularly stunning then the odds are that your partner will love it.
Modern Diamond Presents
Wedding anniversaries usually have a traditional gift that has been given to couples for centuries. They also now have a modern gift that has started to gain popularity in recent years. 60th wedding anniversaries are a little bit different as diamond-based gifts are still the most popular presents to give couples at this milestone. That doesn't mean, however, that there aren't some more contemporary diamond-based gifts available on the market.
A 60th wedding anniversary gift that is sure to appeal to just about anyone is a diamond-encrusted watch. These can be bought from any of the top watch manufacturers and are guaranteed to go down well. These watches are the very essence of simple yet effective. Most of the designs appear very subtle on the surface but have striking diamonds intricately placed on the watches' face. These diamond watches work as the perfect gift for anyone celebrating their 60th anniversary, no matter their age or gender.
Are you searching for a modern 60th wedding anniversary gift idea that's a little more out there? Then consider getting the celebrating couple a personalised, diamond-based gift. These gift ideas are practically limitless as it can basically be any gift with a personal engraving on it. For example, are the couple big wine drinkers? Then it may be an idea to get them a fine wine and put it in a bottle with a personalised engraving on it. Alternatively, you could get them something that was around on the date of their wedding. Suggestions include a number one album or the newspaper of that day. These can be packaged neatly in a personalised envelope or sleeve, giving your gift that personal finish.
The Best Way To Celebrate Your 60th Wedding Anniversary
It's rare to celebrate a 60th wedding anniversary these days. So if you or anyone you care about is celebrating one, take the time to celebrate it properly! These events don't happen to everyone and you should be proud that you've made it this far. So, whether you're looking at getting the couple some jewellery or a personalised gift, give it your all. It's sure to a major celebration, so get out the fireworks and start planning the event of a lifetime!